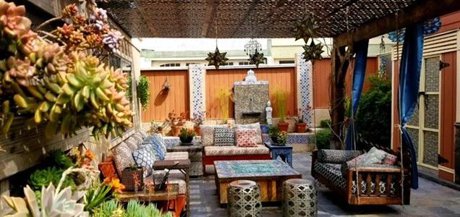 It's the time of the year when we all start thinking about a summer vacation. But we're all so busy, and the thought of leaving for an extended period of time seems impossible. All of the planning and preparation can leave you more stressed than when you started. The best solution is to create a home you don't need a vacation from.
Here are a few tips on how to transform your, for now, home into the resort home that you can enjoy year-round.
1) De-clutter. And get help.
We both know you need to do it, so let's move on. The first step in transforming your home into a completely new place is a massive de-clutter. Let go of old and barely used items that only take up space on your shelves and in your closets. Just let go. Keep the nicest and most precious things that are of highest use and importance, but rethink where you store them. If you want help, we have seriously trained ninja organizers that can help guide you through the process. Can you imagine the feeling of lightness and gratitude if your home was professionally customized to your life?
2) Deep. Clean.
Remember that last spring-cleaning you did? Neither do your friends. Do it right this time and hire a cleaning crew that will make your place feel and smell brand new in just a few hours. The interior deep-clean will clear the germs and old scents. An exterior power-wash will give your home an amazingly fresh new look. Let us schedule a crew to do it a few days before your Staycation starts. It's certainly cheaper than paying for 10 days of hotels in Tahiti.
3) Create an Outdoor Living Space. Yes, You Can Have a Fire Pit.
Beautiful and colorful plants and just the right amount of soft and hard landscaping can create an absolute space transformation. You want to feel closer to nature and add a Zen-like energy to your home! Turn your backyard into the green & relaxing oasis you've always dreamt of. With a killer fire pit.
4) Open it Up.
So, this one may sound scary at first, but hear us out. With just the right type of remodel, your home will not only look nice but it will become more spacious, useful and enjoyable. We know people and can recommend professionals who will help you design and build a completely redesigned living space. It will take time and it will be hard. But it will be so worth it.
5) Trade Up.
You're not getting any younger and it's still a seller's market. Maybe your kids are gone. Or you have a neighbor that has a dog. Or four. Avoid the remodel and sell it. You've got great equity and other homes out there just make more sense. There are strategies on how to maneuver the sell or buy first dilemma. Let us talk you through it.
Whether you are going on vacation or staying at home, it's important that your home feels right. Creating your ultimate vacation-style home is possible. But if it's time to move on - let us know.